VERSATILITY AND THE NEW NORMAL

The story of how the Covid 19 pandemic has impacted the workplace has been told a thousand times over.
Yes, office work has been radically changed by the pandemic, but nothing is gained by dwelling on the past. As the pandemic subsides and the economy reopens, smart businesses are going to be ready to transition into the future.
If you are ready to build a strategy that will become the "new normal" for your business, we are here to help. Let's start by highlighting three key questions that will inform your approach to this challenge.
---
Many organizations are not having all employees return to the office full time. It seems certain that there will be a shift toward a hybrid model – where some work is done in the office and some is done at home.
Wherever employees happen to be working, it's essential that they are able to collaborate together seamlessly. As you determine who will work in the office and when, keep an eye on what role technology will play in this system. Your employees will need to have the right tools both at home and in the office to communicate effectively inside and outside of the company.
It's important to remember that not everyone wants to work from home all the time. Many organizations will be offering employees the flexibility to spend some of their working days at home while some are still spent in the office. Leadership in some organizations may even choose to end work-from-home operations once it is safe to bring everyone back in person.
WHEN ARE EMPLOYEES RETURNING?

The end of a pandemic is not like flipping on a light switch. Rather, it's a gradual progression toward a new normalcy. As public health conditions improve and restrictions are lifted, your organization will need to craft a plan to bring people back gradually. It's unlikely that work will ever look like it did before the pandemic, but it also won't be permanently restricted to remote settings.
Even if an employee in a given role will eventually return to full-time in-office work, he or she will likely be part-time to start. This is another reason to have flexibility with the communication tools you use in the company. Your technology needs to be versatile enough to serve employee needs no matter where that employee happens to be working for the day.
---
HOW WILL YOU ACCOMODATE EVERYONE'S NEEDS?

A unique challenge arises when you start to think about a hybrid workplace model where some team members are at home and some are in the office. How will everyone communicate effectively in such a situation?
For instance, you will likely need to hold meetings where some participants are at home and others are physically present in the building. Do you have the right technology to make sure everyone can play a meaningful role in such a meeting?
It's easy enough to have everyone connect to this kind of meeting and hear what's going on, but that's not enough. Rather, everyone involved needs to be able to share their thoughts and ideas clearly with the group. The right communications technology can make this possible.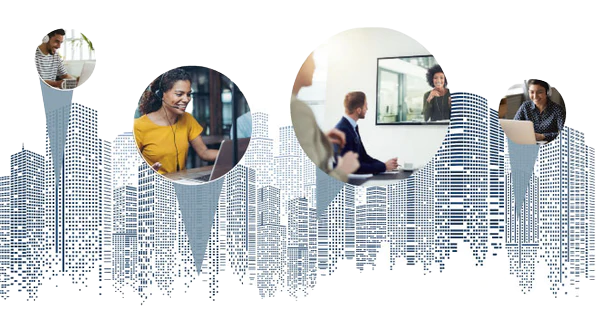 COMPARING USER INTERFACES

---
The simplicity of a user interface is an important differentiating factor when choosing a tool for your organization.


For Zoom, the UX is very simple and easy to use. It presents almost no learning curve for a new user. Anyone with basic computer or mobile device experience will be able to navigate the application without any trouble. More advanced features may require a bit of training but getting started on Zoom is fairly easy.


The story is a little different on Microsoft Teams. This app does offer a productive user interface that's designed to fit naturally with the rest of the Microsoft Office products. However, those who aren't familiar with the Microsoft platform may struggle at first. Specifically, users will need to get comfortable with organizing their channels, sharing files, and doing integrated work with Office 365 apps like Word and Excel.
---
One of the inherent challenges of video conferencing is extending the technology into the conference rooms. Fortunately, both Zoom and Microsoft Teams have excellent room systems to make meeting virtually very similar to meeting in person.
Some of the features these apps have in common include –
Device management
Touch enhancements
Companion experiences with mobile
Dual-screen rooms support
While many room features are shared across both platforms, there are some important differences to note.
---
People Counting - nice advantage when waiting on everyone to arrive before getting started.

Certified Devices - Zoom has a large selection of certified devices to choose from.

Companion Whiteboard - a unique feature which allows users to have a secondary touch monitor in the room running Zoom Room software on a Windows PC. It also enables you to have a dedicated interactive touch display synced along with dedicated Zoom Room in your space, the two are connected by Zoom over the internet.
---
Proximity Detection - allows users to join a meeting with others in the same physical location. This feature uses Bluetooth to find Teams Rooms near you and can provide an invitation to join automatically. When trying to get everyone in a conference room on the same call to speak with a client, for example, is a useful capability.

User Interface - Microsoft Teams Room has a simple, intuitive interface.
---
---
You should not only consider the current price of the tool, but what that tool may cost you in the future if your needs expand and you need a more advanced level of service. As a starting point, both services offer a free tier. In some cases, the free tier will be good enough.​
Zoom's free tier allows you to host up to 100 people in a call, and that call can last for up to 40 minutes

Microsoft Teams free tier also allows you to host up to 100 people in a call. There is a 60-minute time limit, and you are not able to record the call.
To break free of these limitations, you'll need to upgrade to the first premium tier on either tool.​
On Zoom, that costs $14.99 per month per user. This level of service retains the 100-participant limit on meetings, but the time limit is extended to 24-hours.

The cheapest premium plan on Microsoft Teams is priced at $5 per month per user. At this level, all the features of the app are opened up, and 1TB of cloud storage is included.
From these starting points, each platform offers higher-tiered packages.
---
If you are looking for phone capabilities to be integrated with your new platform, you may want to look first at Microsoft Teams. Since Microsoft has been in telephony for some time now - it's previous offering Skype for Business (rebranded from Lync) offers telephony - this is something that the platform has history with. You can configure your Teams setup for needs like caller ID, call queues, and much more.


Zoom also offers telephony, although this is a much newer offing than the video conferencing for which it is known. You'll get plenty of features here as well, such as voicemails, call history, and call recording.
INTEGRATIONS WITH OTHER SERVICES

---
Video conferencing is an important technology to have available in your business, but it's not the only service you need to keep your operation running smoothly. When comparing Zoom with Teams in terms of integrations, you need to come to the discussion from two different angles.


For Teams, it is already a built-in part of Microsoft 365 Business, so it is integrated fully with the suite of Windows tools that many businesses already use. So, it would be a matter of integrating other services into Teams. Given the popularity of Microsoft 365 Business for businesses of all sizes, it's a safe bet that plenty of powerful integrations will follow.


On Zoom, it's the other way around. This is a tool that you will integrate into others, and that arrangement can work just as well. For instance, if you want to integrate with Google Workspace, Zoom is an excellent choice. It also integrates nicely with Slack.
SHOULD YOU USE TEAMS OR ZOOM?

---
The answer to this question can be found in the way your workflow is already structured. Are you already working regularly within Microsoft 365 Business? If so, using Teams is a no-brainer. Your employees know how to use the various Microsoft tools, and the integration of Teams makes it an outstanding platform for your needs.


On the other hand, if you need to integrate your video conferencing with other tools, and you aren't immersed in the Microsoft ecosystem already, you may favor Zoom for its flexibility and simplicity. Also, it might be easier to collaborate externally on Zoom, and it offers better capabilities for room solutions.


If you're still unsure which platform is right for your organization, Vivo offers a free technology assessment to help companies standardize on a platform that best fulfills their business goals.


Take some time to review the pros and cons of each – and how those points relate to your organization – before making your choice.